There are several ways you can configure your users' mobile numbers in SnapComms for them to be able to receive the SMS Alerts that you send. However, for all options, you need to ensure that the numbers are in an International Number Format. Options for configuring mobile numbers are listed below, followed by instructions for how to send a SnapComms Alert with SMS Messaging.
CONFIGURING USERS' MOBILE NUMBERS
Manual Configuration
In your Content Manager, navigate to Users & Groups > Users Page. Select the user that you wish to add a mobile number to. Under the User Details tab, enter the mobile number into the SMS field and click Save.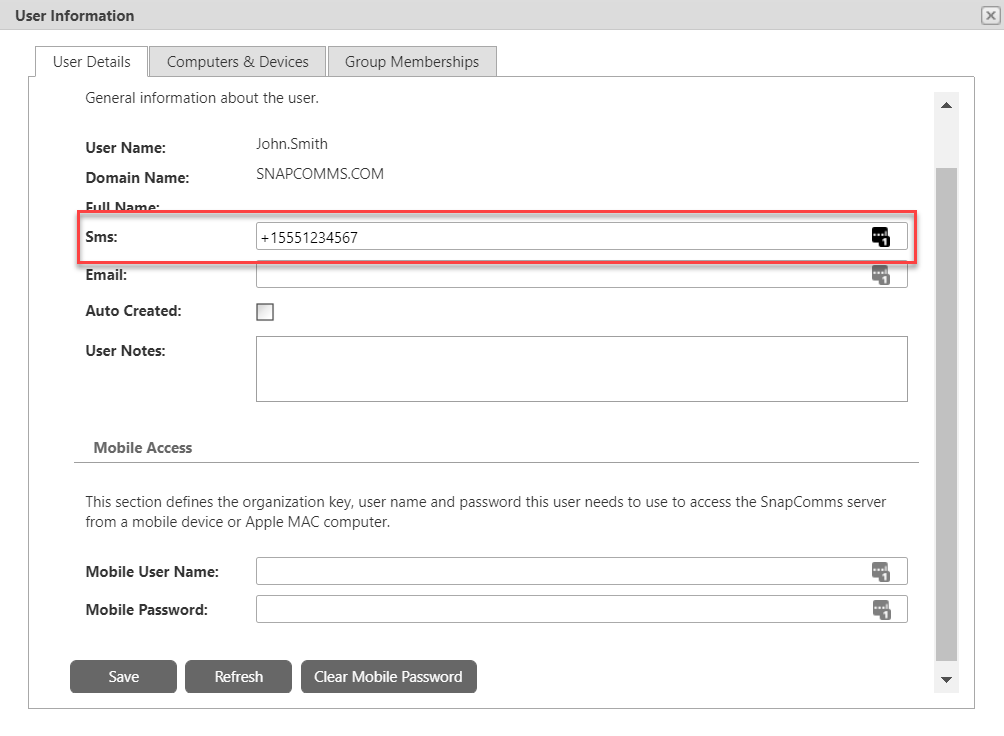 Importing from Active Directory
If mobile numbers are available from your Active Directory, add the mobile attribute to the Included user Attributes. Go to App Management > Windows App Profiles and select the profile that you are using. Select Show Advanced Settings, under Active Directory Integration, click on the three dots beside Include user Attributes and check the box for mobile attribute.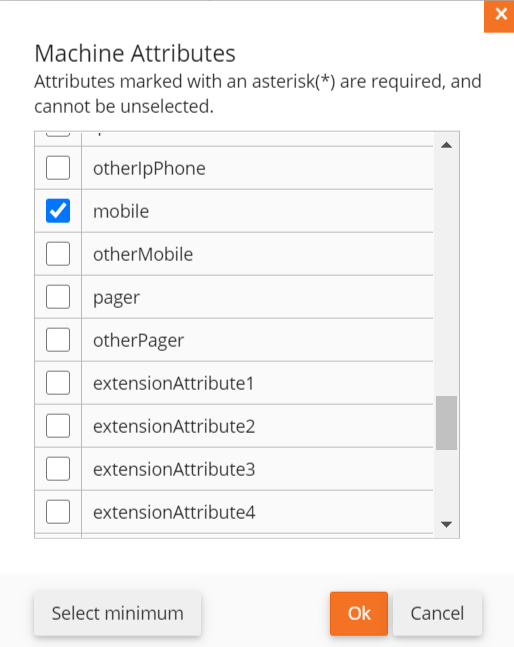 Importing from a CSV File
If your users' mobile numbers are not available from your Active Directory but can be exported from another data source, e.g. your HR system, you may import their mobile numbers by adding an SMS column in your comma-separated-value (CSV) file and upload it by using the CSV Import feature. Below is an example of how your CSV file will look like. Details on how to use this feature can be found here.

Adding SMS Recipients at Delivery
This method allows you to send SMS alerts to mobile phone numbers that are not currently in your users list. This option will be available when the Send SMS (Mobile delivery) is selected in the Delivery Options of the SnapComms content that you wish to publish. All SMS recipients added using this button will automatically be created as new users within the Content Manager. Any SMS recipient that already exists in your users list inside Content Manager will not be duplicated.

To use this method, navigate from your content to the Targets tab, toggle on Use advanced targeting. Choose between Users only, Groups only, or Groups and Users as your targeting method, then click the Add SMS Recipients button.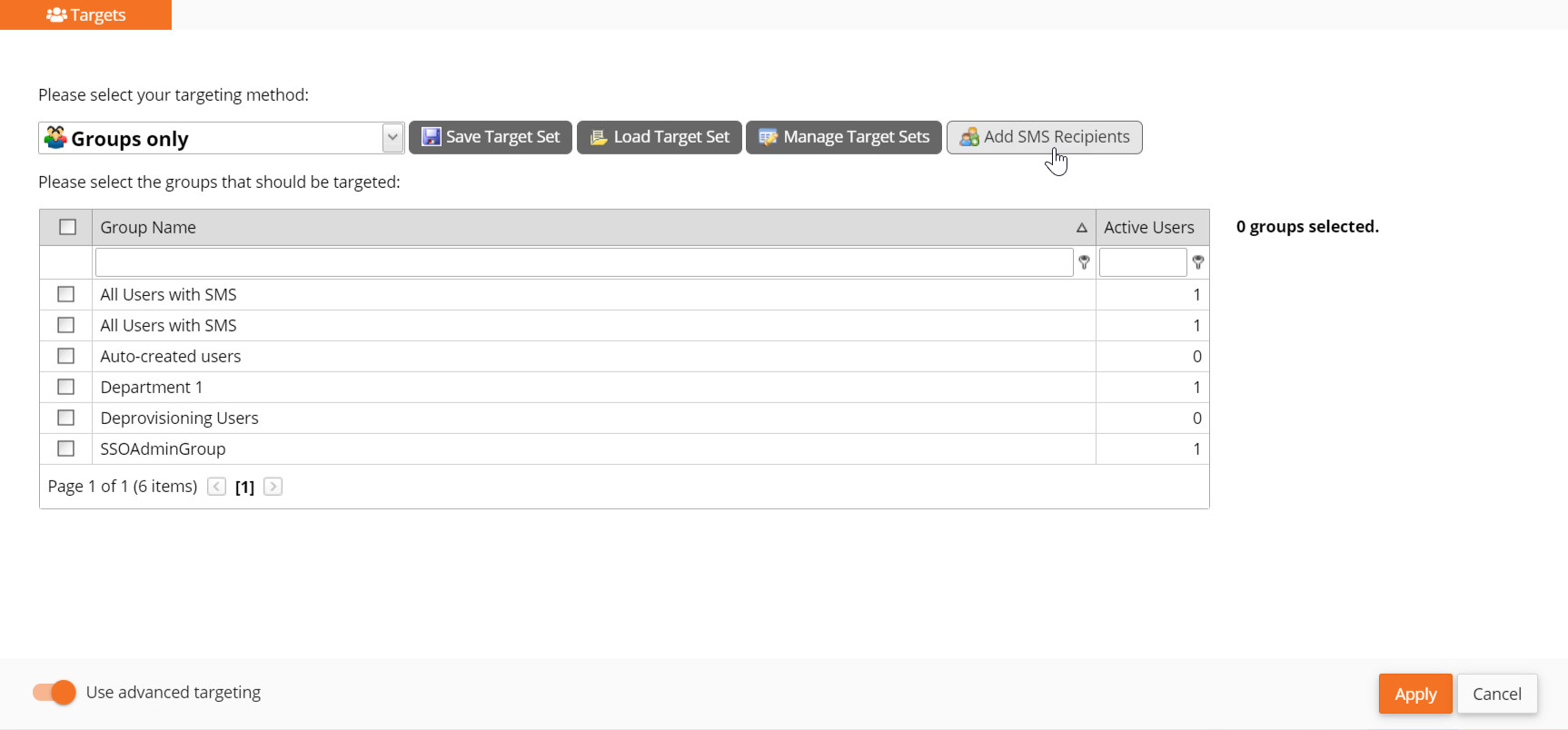 After clicking on the Add SMS Recipients button, the pop up window below will appear. Type the mobile numbers you wish to send an SMS Message to. When using this option, mobile numbers should be in an international format as follows: the country code without the leading zeros, and no spaces or special characters such as +. For Example a USA mobile number +1 041 5555 1234 will be entered as 14155551234.

To add multiple numbers, separate each number with a comma, e.g. 14155551234,44715551234,6121555123. Once you are satisfied with the target mobile numbers, click Add.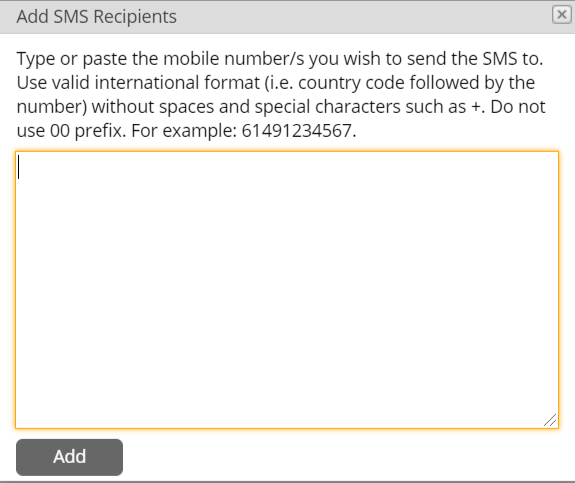 SENDING A SNAPCOMMS ALERT WITH SMS MESSAGING
Sending SMS messages is done via the Delivery Options screen.

Toggle on the setting and input the text you wish to appear in your SMS message. This can be any text you want, however, it should not exceed 160 characters.As you type, you will notice the character counter in brackets reflect how many characters you have used. You may also put a link in your SMS message; and depending on the mobile device of the recipient, it may be rendered as a clickable link.
Note: Whilst certain SMS Gateway Providers allow for greater character counts, SnapComms cannot guarantee messages sent with this character length will be delivered correctly.

When the content (Alert, RSVP, Newsletter, etc.) is published, the Publish Summary screen will show Send SMS and the number of users who will receive the SMS message under Delivery Options.