OVERVIEW
Mobile users will need an Organization App Code to initiate a secure log in or registration on the SnapComms Mobile App. As a content administrator, you are required to obtain and distribute this Organization App Code securely to your staff. You can find your Organization App Code on the Mac & Mobile Settings page under the App Management menu in the Content Manager.

Note that the App QR Code and Mobile Onboarding Deployment PDF from this page is only applicable to the SnapComms Mobile App
MAC & MOBILE SETTINGS PAGE
A content administrator can configure the following Mac and mobile settings in the Content Manager: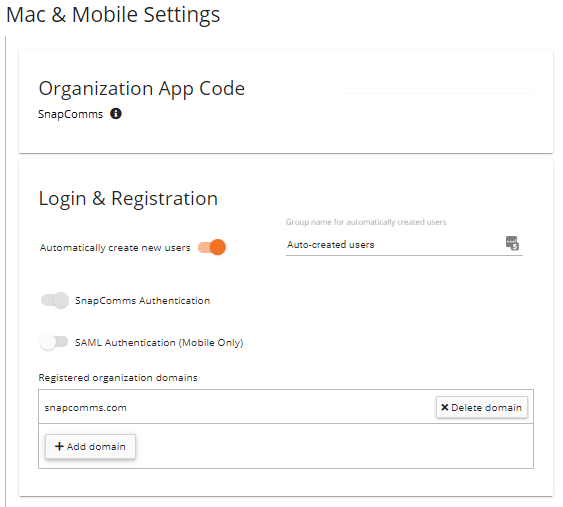 ​
The Organization App Code is read only (cannot be changed in the Content Manager). If you need to change this code, please contact a SnapComms representative.

Automatically create new users: Enabling this feature will allow new users to automatically connect to the Content Manager. If this feature is not selected, users must be manually added to the Content Manager.

Group name for automatically created users: The automatically created users are placed into the group specified in this field. By default, the group name is 'Auto-created users', however content administrators can modify the default group name and click Save to implement the change.
You can select your preferred Authentication method.
SnapComms Authentication (System Default)
Registered Organization Domains: Specify the email domain for your organization. The domain is part of the email address after the @. Employees can only register the SnapComms Mobile App using their work email address if it matches a domain specified here.
SAML Authentication
Your external Identity Provider will need to be configured. Click on the link provided to complete the setup.