SnapComms now supports two different notification mechanisms to deliver messages to employee Apps.
Real-time notifications

Polling
Real-time Notification
This enables all Cloud customers to communicate with employees immediately (in real-time) for Important, Critical, Urgent and Emergency messages. This delivery mechanism applies by default when a message is sent with an immediate start date. The employees will receive the message with a notification expectation of fewer than 10 seconds.
Example:
The message that is scheduled for an immediate start and is targeted at less than 30,000 users will notify the message recipient within 10 seconds. The message will then download and display thereafter.

Note:
Delivery time for a message is always subject to network limitations, so the download speed and display time are subject to internet connectivity and network bandwidth.

Content that is targeted to more than 30,000 users will not use the real-time notification functionality for performance reasons and is usually not required for such use cases. These messages will download and display according to the polling time.

All delivery channels will attempt to use the real-time notification, please note that Screensavers, Lockscreen and Wallpaper still require the usual triggers to do display the message i.e. Screensaver mode is enabled.

This requires the version 21.03.16067 and above Windows App to use the real-time notification

For the Mac App, you will require version 21.04.17936 and above to use the real-time notification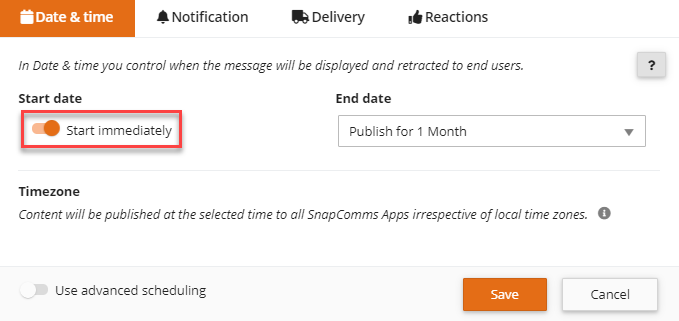 Polling Time
This notification mechanism will kick in when a message is targeted to more than 30,000 users with the publish immediately setting. The message will be downloaded and displayed according to the polling time set under App Management> App Profiles> App-Connect time. Click here to learn more about App Profiles. For messages set with a future start date, these are generally delivered in advance and will display at the correct time.